Blackberry and raspberry field establishment procedures and costs
Site selection and soil preparation 
Blackberries and raspberries have similar soil requirements and can grow in a wide range of soil types, but do best in well drained, fertile soil with a slightly acidic ph between 5.6 and 7.0. Avoid planting in areas that drains poorly as brambles, especially raspberries are susceptible to root rot. A raised bed, about 25cm high can work well as an alternative. A planting site higher than the surrounding area can also provide better air circulation and water drainage which will reduce disease and insect problems. Avoid plantations where tomatoes, potatoes, peppers or eggplants were planted the past 5 years as they could host diseases such as Verticillium wilt. 
Blackberry and raspberry plants require well drained soils such as sandy or sandy-loam, with a clay content preferably less than 25% as they are sensitive to root diseases although some varieties are more tolerant to heavier soils and have been successfully grown in soils with a clay content as high as 30%. It is recommended to incorporate more organic matter into the planting rows and also to create raised beds especially in heavier, poor draining soils. 

 
It is highly recommended to dig a few profile holes per hectare and then to take soil samples which must be sent to a soil testing laboratory such as Intertek, Soillab, ARC, Nvirotech, Kynoch, SGS etc. A soil sample should be taken between the top 15cm to 20cm layer and the lower 40cm to 60cm layer where the two samples should then be mixed in order to get an average of the two samples for each profile sample hole. 

 

For the

soil

plantings, elements such as N, P, K, Ca, Mg, S, Ma, Fe, Zn, Cu, Mo and B should be tested for, as well as PH, EC, bicarbonates, Cl, Na, CO3, resistance, base saturations and the sand, clay and silt ratios. With the sand, clay and silt ratios, at least the clay percentage should be indicated. 

 

For the

water,

the same elements as with the soil can be tested (N, P, K, Ca, Mg, S, Ma, Fe, Zn, Cu, Mo and B) as well as the PH, salinity (EC), sodium, chlorides, SAR and the total hardiness. 

 

The water source/s should also be tested and sent to water testing laboratories for testing. 

 

The test results should then be analyzed by an agronomist who preferably also have knowledge and experience with berry crops such as raspberries and blackberries. Berries For Africa can recommend a few reputable agronomists if required. 

 
The soil can be prepared such as to rip and/or plow the land 50cm to 80cm deep depending on the soil type and then to disc the soil where the rows can thereafter be measured off and marked. 

 

Depending on the soil test results, the agronomist can then calculate the amount of nutrients required to be worked into the whole field or planting rows. Organic matter such as pine bark chips and compost will also be of great benefit to blackberry/raspberry crops as they require well drained and aerated soils with an organic percentage of at least 4%. 

 

As with most berry crops, blackberry and raspberry plants can't stand in waterlogged beds, so for poor drained soils, it is advisable to make raised beds 20cm to 40cm high and approximately 60cm wide (at the top) to 100cm wide (at the bottom) using a bed-former or modified disc system. The raised beds can also be made by hand using spades. 

 

The rows or raised beds can be covered with a 3cm to 10cm layer or organic much such as pine bark chips or a plastic much such as AgriWeave or some other woven polyethylene weed mat which can be used to prevent weeds from sprouting, keep the root zone cool and also allow irrigation and rain through to the roots. A polyethylene weed mat of a relatively high density of at least 105gsm which should last more than 10 years depending on the conditions and usage.  

 

After the rows or raised beds are prepared, the net contractors can install the poles and net system. 

 
Irrigation 
The irrigation design team can construct a design plan and layout of the irrigation system which are broken up in smaller sections such as 1ha blocks. This should include the pump station, fertigation (dosing) system, main valves, main lines, pipes, drip systems etc. 

 

Raspberries and blackberries require irrigation from bloom through harvest to ensure good berry quality although the roots must have sufficient moisture throughout the year for optimum plant health. Avoid overwatering as raspberries/blackberries are very susceptible to root rot caused by very wet soils. Depending on the type of production system used e.g. planted directly into the soil or in pots/grow bags, the climate, annual rainfall, blackberry and raspberry plants require approximately 1L to 2.5L of water per plant per day during the growing season. With a plant density of up to 7000 plants per hectare, one can work on a daily water budget of a maximum of 17,500L of water per ha/day. 

 

Drip irrigation is recommended where a one to two-line system is used. If two lines are used, they should be spaced 30cm to 40cm apart. 1L/h to 2L/h driplines with a drip hole spacing of 30cm works best to irrigate the complete row. If the land has an elevation of more than 3˚ it is recommended to use compensated drip lines. For plantings in pots or grow bags, dripper pegs (arrows) and micro tubes (45cm to 60cm long) are required where 2 to 4 dripper pegs are positioned per plant depending on the system. A 3L to 4L per hour drip button (regulator) with a 4-way manifold is used to feed the 2 to 4 micro tubes and drip arrows depending on the system, climate and rainfall. 

 
A reservoir that can store sufficient water for one week is required in case planned maintenance or repairs need to be done to the borehole. 

 

An automated fertigation and filtration system such as ones manufactured by Galcon, Netafim or Dosatron is recommended. Contractors such as Agrico and Cherry Irrigation can be consulted for the complete design, layout and installation.

 

The rows should be between 60m to 100m long. 

 

Service roads around the field as well as between the net systems are needed for harvesting vehicles such as quads, orchard tractors, sprayers, bakkies and other small vehicles to drive and turn around. 

 
Spacing and plants per hectare 
Blackberries: 

 

0.6 -1.0m between plants with a row spacing of 2.0-3.5m

 

Red raspberries: 

 

0.5 -1.0m between plants with a row spacing of 2.5-3.0m

 
The spacing between rows depends on the type of berry and the trellis system used. 
Approximately 6000 to 8000 plants per hectare can be planted. Most berry producers plant 60cm apart in the row with a row spacing of 2.2m which require a plant density of 7500 plants per hectare.  
Trellis systems 
A trellis system must be used with trailing blackberry varieties.  
A trellis or wire system can also be used to keep canes and fruit from touching the ground. This practice reduces wind breakage, assists with harvesting, nutrient management and cultivation. Some erect blackberry varieties can be grown without any support, but semi-erect varieties would benefit from support. 
 Most blackberry producers use a simple wire system which is attached to the poles of the net system although some use a T-trellis system which support the wider spreading canes at the top. See examples below  :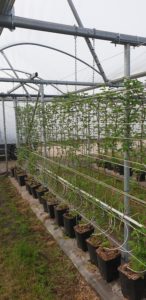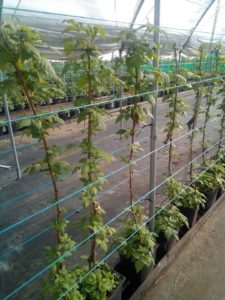 Net system 
To protect the plants and fruit from potential damage to hail and birds, it is advisable to install a shade net system which is

at least

3.2m high. Most blackberry producers in the warmer areas install systems where the lowest point is 4.2m high as the plants do grow tall to around 2.2m high, so there must be sufficient space for cool air flow between the net and the top of the orchard. 

 

20% shade net of white color or 20% shade net of grey color should be used for blackberry or raspberry orchards. In very windy areas it is advisable to use 40% to 60% shade net to cover the sides.

 
There are many contractors in South Africa that can plan and install net systems. We can recommend a few good and reputable contractors such as Knittex, AlNet, PlusNet (Geotex), Global Green Construction and Echoshade. 

 
Growing medium and pots/grow bags 
Both raspberry and blackberry plants can be container grown in different size pots or grow bags. Most of the blackberry cultivars become large plants and should preferably be planted in a 20L to 25L pot/bag. The raspberry plants can be grown in smaller 8L tot 12L pots/bags. If bags are used, make sure to use a thickness of at least 200 microns, preferably white. Apart from plant material and technical assistance, Berries for Africa can also supply various pots/bags as well as different types of growing medium. The raspberry and blackberry plants do not need to grow in expensive Canadian or Lithuanian peat moss and can rather be grown in a less expensive substrate such as a good quality coco coir. It is critical that the coco coir is buffered and washed before the plants are planted into the growing medium. We have tested various coco blends, recipes, pots and bags from different reputable suppliers and have standardized on the best and most suitable ones. Contact Berries For Africa for more information on pricing and options.  
Cold chain 
For larger operations, it is critical to have a complete cold chain process from post harvesting processes such as extracting the heat and to keep the fruit cool, sorting, quality checking and packaging to the delivery point. Usually cold trucks or small "bakkie" refrigeration units are used to transport the fruit in a cold environment. Companies such as SWD Refrigeration can be consulted who has extensive knowledge and experience in berry cooling procedures, designs and installations.  
Plant material 
Berries For Africa can grow and supply more than one million plants per year. Most of the types of berry plants, except for some such as the Cape gooseberry are very winter hardy and can be planted anytime of the year. Care must be taken when they are transplanted in middle of summer especially in the very hot and dry areas where temperatures exceeds 40˚C to make sure that the plants do not go into shock or even die from drought due to drying out from malpractices or negligence. To prevent this, it is strongly advisable to have the irritation system completed and tested at least one week before the plants arrive to hydrate the soil or growing media. The plants must be planted the same level or even slightly deeper than they were planted at the nursery.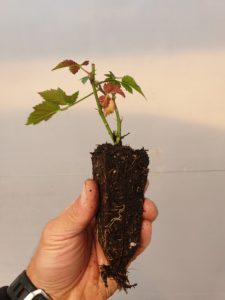 Estimated setup costs per hectare 
Irrigation:

R60k

to

R150k

depending on the specific requirements and scale of the operation

 

Soil preparation and amendments:

R15k

to

R40k

depending on the soil and options such as to farm organically, conventionally, in pots/grow bags etc. 

 

Pots/bags (if not planted in soil): ~R30/pot or R22 for a grow bag + R8 for the grow bag stand. At 7500 units per ha the total cost would be approximately

R225k

 

Growing medium for pot/bags: 20L @ ~R1.40/L is approximately R28

x 7500

: R212k

 
Weedmat/Agriveave/organic mulch: ~

R55k

 

Plant material R16.40 x 7500 =

R123k 

 

Trellis system (Gum poles, droppers, anchors, wires): ~

R90k

 

Net system (installed):

R300k

 
Total cost per ha (planted directly into the soil): Min   R343k to R643k (with net) 
Total cost per ha (planted in pots/grow bags):    Min    R568k to R868k (with net)  
For orders, more information or technical assistance, please send us an email at info@berriesforafrica.co.za or visit our website at www.berriesforafrica.co.za